Why choose a childminder?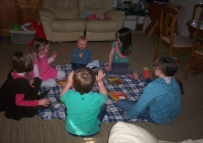 Registered childminders are childcare professionals who provide home based childcare services for a maximum of 6 children from birth to 8 years of age. All childminders must be registered, complete training, first aid qualifications, undergo enhanced Criminal Record Bureau (ECRB) checks and are subject to inspection and grading by Ofsted before they are able to work from their registered address.
By choosing a registered childminder, you are assured the childminder is qualified, has the appropriate insurance, security vetting for all ocupants of the registered address and the setting is safe and a suitable for the provision of childcare.
Registered childminders work from their family home and they are able to provide a flexible and homely environment for children in thier care. Children will benefit from the time and attention on an individual basis and they will also be activlely encouraged to participate and learn through a varied and fun range of educational group activities at the setting.
By choosing a registered childminder there are many benefits, but to keep things simple, your children will benefit and enjoy many experiences that you would usually do with them at home, such as going shopping, trips to the park and cooking.